CITY OF BOULDER: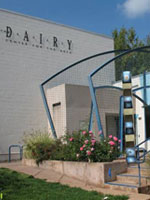 Dairy Center for the Arts
built circa 1965,
old Watts-Hardy Dairy
Classical Art Academy
5485 Conestoga Ct., Suite 101
303.522.3048
classicalartacademy.com>
Learn to draw and paint in the
atelier tradition, where aspiring
artists can find sanctuary and a
supportive network.
Now offering iPad classes!

---
Lillian Kennedy Fine Art
Lillian@rockfire.com | 303.541.9506
lilliankennedy.com>
Private coaching, painting oasis,
beginning acrylic painting, custom
designed workshops.
Contemporary Artists
4919 N. Broadway | 401.688.1390
jordanwolfson.com>
Classes in Individual Critiques,
Creative Development and Drawing
& Painting to Figure/Figuration and
Abstraction.

---
Encaustic Studio
2810 Wilderness Pl. | 303.522.3048
classicalartacademy.com>
Encaustic painting is one of the most
fun and creative ways to make art.

---