Eco-Art Practices
---

EVERYDAY ECO PRACTICES – REUSE, RECYCLE, UPCYCLE
Whether it's Earth Day, or any day, practicing safe and ecologically sound practices in your daily life is so important when creating. Think of the environment as not only globally but in the sense of your personal workspace as it relates to your health and your surroundings.
This basic information is focused on tools and methods you can use to lessen negative impacts on the earth, and yourself. We encourage you to ask questions and research related topics that you are concerned with. You can do that through manufacturer websites or by coming in and having a conversation with our staff.
We encourage you to:
Read labels as you would when grocery shopping. Manufacturers are required per the Labeling Hazardous Art Materials Act (LHAMA) to include pertinent eco and health information if you want to be more aware of any substance that might be harmful to you or the environment.

Look for:
"Conforms to ASTM D4236" This means that items have been properly labeled.
Art and Creative Materials Institute (ACMI) These are manufacturers who have agreed to have their products evaluated by independent toxicologists and tested by independent labs.
"AP" Non-Toxic and "CL" Certified Seals show the product is labeled in accordance with federal and state art material labeling laws as non-toxic in that the chemicals used are at a safe level or are not in "sufficient quantities to be toxic or injurious to humans.
"FSC certified" The Forest Stewardship Council is an international, non-profit organization that promotes management of the world's forests.
---
PAPER PRODUCTS
We carry a selection of papers and paper pads that are made up of various percentages of post-consumer waste or use emissions free, renewable wind power to operate their production.
Some journals and books use environmentally friendly soy inks for printing versus traditional petroleum-based inks. Typical printing inks emit toxic VOC's, or volatile organic compounds which can be harmful to animals, humans and the environment.
NON-TOXIC/LESS TOXIC SOLVENTS
You don't have to use turpentine anymore to clean your paint up. This respiratory irritating solvent can cause different side-effects including lightheadedness, nausea and is absorbed through the skin as well.
Currently there are safer and less toxic alternatives that are solvent-free and/or low-odor.
COLOR a.k.a, Paint & Pigments
Manufacturers have worked on producing paints that do not contain heavy metals like cadmium, lead, arsenic, mercury, etc., whether they are oils, acrylics, watercolor…although water-based paints emit less volatile organic compounds (VOC's) than other paints.
This evolution has made oil painting one of the safest, least toxic and polluting and most natural of all paints.
Hues have replaced, or are an alternative to the original pigment. Colors labeled as a hue are now very close to the original. They are also less expensive.
Wipe off as much paint possible from palettes, brushes and other tools before rinsing them. And, use a tube wringer, or the like, to get the most paint out of your tubes.
OTHER
Look for labels that state: renewable materials, natural dyes, recycled content and packaging, Forest Stewardship Council (FSC) certification
To find out which chemicals are in a given product, check its Materials Safety Data Sheet (MSDS), which lists ingredients and potential health hazards, and can be obtained from the manufacturer.
By law, US schools cannot give art supplies without any hazard warning to K-6 school children.
DISPOSAL/REPURPOSE/RECYCLE
Some art materials can be reused, such as stretcher bars, canvas, wood panels and the like. They simply can be painted over whether applying gesso over the old piece or not.
Save paint left on a palette by covering the palette to prohibit drying, scraping remaining printmaking ink off and put in an airtight jar that is suitable for storing solvents and paints. Use a tube wringer to squeeze out as much paint as possible from the tube when it's near empty.
There are also organizations such as RAFT (Resource Area for Teaching) that will take certain types of supplies (new or used) for reselling to educators at a low price.
Do not put paints down the sink drain. When cleaning your palette, tubes, etc. wipe as much as you can off with a towel. Solvents should not be thrown into the trash or sink. You can take them to a disposal site, usually run by local governments.
Here are some resources for waste disposal, recycling and reuse: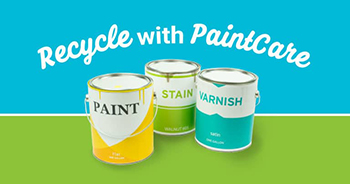 This list is a good start for those in the Denver/Boulder/Colorado Springs area.


OTHER PREVENTATIVE MEASURES:
Wear gloves
Use a fan for air circulation
Work in a ventilated area
Wear a mask if concerned about pastel dust, aerosol vapors and the like
Keep harmful solvents covered tightly and away from pets and kids
---
ECO-MATERIALS AT MEININGER ART SUPPLY:
PAPER
Strathmore Windpower Series pads Uses 100% windpower in their production process
Strathmore Cards Bamboo and hemp cards are available
Global Art Materials, Inc. Kona Classic Premium Toned Paper pad is 100% recycled materials
Miquel Rius The Stone Paper pad uses no water, no trees and no bleach
Decomposition Books 100% post-consumer waste and are printed with soy inks
Cachet's Earthbound Recycled Sketchbook 100% recycled paper
Bee Paper's Big Black Bee Sketchbook 100% recycled, chemical free and chemical free
Baron Fig Will plant a tree if you purchase one of their Confidant journals
Decorative papers Many of beautiful papers are made from Lokta, an indigenous and plentiful plant from Nepal that is harvested from managed forests. This, in turn, has helped the local economy by providing work for locals.
PENCILS
Faber-Castell FSC Certified, Solvent-free paint for pencil coating
Caran d'Ache FSC Certified
General Pencil California Incense Cedar (managed) wood is used for their casings
Derwent California Incense Cedar (managed)wood is used for their casings, Solvent-free paint for pencil coating
EASELS
Jack Richeson Named their Lyptus Easel after the managed and renewable hardwood Lyptus tree grown in South America.
Mabef Easels are made from Beechwood harvested from certified areas where reforestation is controlled by regulations and guaranteed by the forest commission. Mabef transforms wood scraps, shavings and sawdust into an ecological fuel to heat their factories and offices.
SOLVENTS
Gamblin Gamsol, Solvent-Free Gel
Winsor & Newton Sansodor
Eco House Neutral Thin Odorless Thinner
Martin F. Weber Turpenoid Natural
M. Graham Walnut Oil
STATIONERY
Waste Not Paper Co. Uses at least 30% post-consumer waste. They strive to partner with eco-conscious mills and printers. They recycle, donate or reuse all their scrap paper
OTHER ITEMS
Design Ideas makes cool zip bags and other items from various types of recycled material.
---
Questions?
DENVER: 303-698-3838 | 1-800-950-ARTS [2787]
COLORADO SPRINGS: 719-578-8070