Watercolor Days
THIS EVENT IS EXPIRED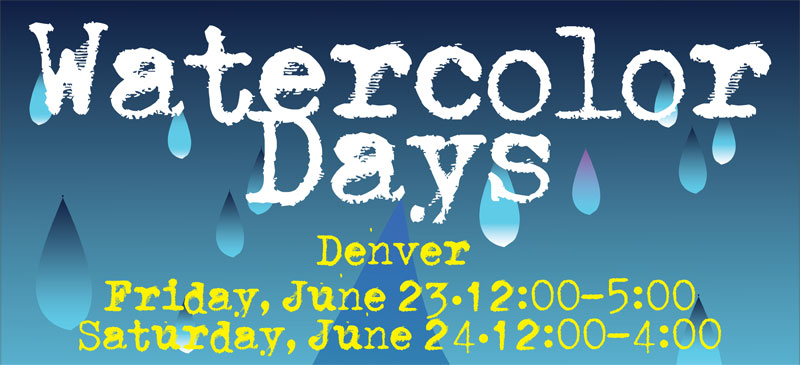 Free / No Registration / Just Drop In!
We invite you to come and play with water, paint, brushes and paper.
Boulder & Colorado Springs stores will have tables throughout their stores to try out watercolor & watercolor-related items.
Boulder store is hosting a Winsor & Newton Watercolor Demo with Pamela Erhardt on Saturday, June 24, 1-3pm FREE! details>
---
We are featuring a great line-up of local artists that will demonstrate their
talent and unique skills whether figurative or abstract.
12-2pm
Dennis Pendleton BIO>
Mary Morrison BIO>
2-4pm
Homare Ikeda BIO>
Mark Lunning BIO>
---
Visit vendor tables where you can learn about and test out different watercolors, brushes and surfaces.
---
This event is for you:
If you've been timid about painting in watercolor

If you are looking to try out different brands of watercolors, watercolor pencils, surfaces, brushes
and more

If you want to get started in watercolors
Free samples available at vendor tables while supplies last.
---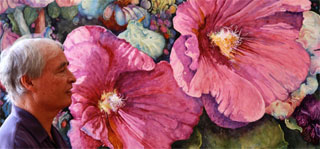 DENNIS PENDLETON
Dennis' blog was chosen as one of the top 40 Artists Blogs online and he's in the Top 10 Art Instructors in the Denver area. He's won numerous local and national awards and has had feature articles in Watercolor Magazine, The Artists Magazine, Southwest Art Magazine, and Artists of the Rockies and the American West Magazine.
Dennis graduated from Ohio State University with a Bachelor of Fine Arts Degree and taught art in the Ohio Public School System for three years. He's been a watercolor instructor at the Art Students League of Denver for 25 years.
DEMO DESCRIPTION: Dennis talks about watercolor techniques like dry brush and ratio of water to paint and painting principles like color, values, shapes and edges. He encourage questions and likes to have a conversation with the audience. He generally demo's still life flowers or objects and landscapes.
Visit his web site: dennispendletonstudio.com
---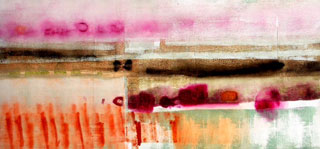 MARY MORRISON
Mary Morrison lives and works in Denver, Colorado. She has been teaching and exhibiting art for the past 25 years and works with Golden Artists Colors, Inc., in the company's Working Artist Program as the Working Artist for Colorado.
Morrison's paintings have been collected by the State of Colorado's Art in Public Places Program as well as many private and corporate collections.
She is currently painting with watercolor and acrylic on canvas.
Visit her web site: marymorrison.info
---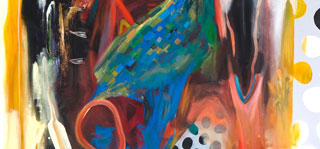 HOMARE IKEDA
Homare Ikeda's art explores the process of life cycles in a microscopic view. A web of lines and shapes merge, mingle, collide and interacts as to form a new universe. It is a lyrical journey to the world of unknown.
Homare Ikeda was born on the subtropical island of Yoron, near Okinawa Japan. In 1978 he moved to the United States.
He received his BFA and MFA from University of Colorado at Boulder.
In 1986, he attended the Skowhegan School of Painting and Sculpture, was an artist in residence at Bemis Center for Contemporary Arts in Omaha 2007, Platte Forum in Denver 2009 and RedLine, Denver 2013~2015. He teaches Painting at the Art Students League of Denver while continuing to show his work in group and solo shows.
Visit his web site: homareikeda.com
---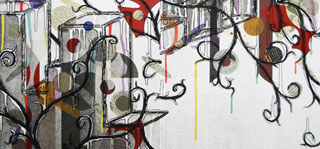 MARK LUNNING
"I am very fortunate; I get to make art and help people make art. For more than 25 years, I have been in business as the founder and owner of Open Press. There, I get to help professionals in making their art, as well as create my own. I work in printmaking, mixed media paintings and sculpture."
He received his BA from the University of Northern Colorado.
Open Press, a fine art printmaking facility & gallery, is dedicated to the creation and exhibition of hand-crafted fine art prints.
Visit his web site: marklunning.com
---
For any questions, call us!
DENVER: 303.698.3838 COLORADO SPRINGS: 719.578.8070 BOULDER: 303.444.3063 or Contact us>